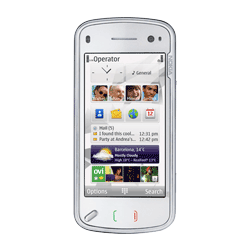 "Nokia Corp. on Tuesday unveiled an ambitious new smartphone with a touch-sensitive screen a slide-out full keyboard, and access to a range of Web-based software applications, part of an emerging class of do-it-all mobile devices.
The company introduced the phone, dubbed the N97, at an event in Barcelona, Spain, but it won't ship the device until the first half of 2009.
It will sell for €550 ($699), though wireless carriers will likely discount the retail price. Nokia declined to discuss whether any U.S. carriers will offer the phone at launch.
Cellphone manufacturers generally make trade-offs for aesthetics, affordability and battery efficiency. But with fierce competition at the high end of the consumer market, there is pressure across the industry to stuff more and more features into a single device.
The N97 has the touch screen popularized by Apple Inc.'s iPhone, a real keyboard that appeals to users of BlackBerrys and Nokia's own E-Series devices and fast Wi-Fi Internet access to complement its third-generation broadband access..."
Read the Nokia N97 specifications
here
.
Get wallpapers, games, freeware, software, tips for the Nokia N97
here
.
[Via www.foxnews.com]