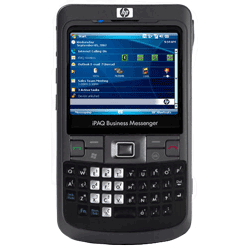 "iPAQ 914c is monoblock (candy-bar) that is designed according to HP tradition. It sits conveniently in hand and it is easy to use thanks to large scroll button in upper right corner and beveled keys. Beside usual QWERTY keys HP managed to squeeze 3 additional keys: TAB, period and comma that can speed up typing significantly. In our case keyboard was not used frequently because of great touch screen. Display is actually small for today standards: 2.46inch (320x240px) and usage of stylus is obligatory. Picture quality is not great but touch sensitivity of display is one of the best we saw so far. Because of this, photographs taken with 3MPx camera (4x digital zoom and auto-focus) looked on display worst then they actually are. One of the reasons is inadequate screen brightness and ability of display to reproduce just 65.000 colors...."
Read the HP iPAQ 910 specifications
here
.
Get wallpapers, games, freeware, software, tips for the HP iPAQ 910
here
.
[Via insidehw.com]